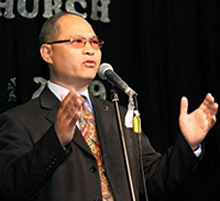 Pastor Letter for February 2017
Dear Members and Friends
We thank the Lord for all His goodness upon us through families, friends and community. Our Christmas celebrations during December was very blessed with the good news of great joy all over Sydney. We are very happy to host Burmese community Christmas dinner on the very Christmas Eve 2016, and that was well attended including our guest of honor Myanmar Ambassador to Australia His Excellency Mr. Thar Aung Nyun & family. Saya Noah ohn Myint and Saya Samuel Thein shared the messages of hope to communities in Sydney, Coffs Harbor and Wollongong, we thank God for their love and commitment to serve and love God and His people all over the world. Our January 2017 outreach to Myanmar was full of excitement and testimonies, Ko Bu Bu and ko Pi visited Inndaw Gyi together with Ko Andrew and ma Bauk Bauk Mai and BCC Sydney team involvement in Pyin Oo Lwin revival meetings on the 4-5 January was a great event to bless churches and all new believers there. January 6-9 Lashio trip also blessed us to pray hard , to treat and heal in Jesus name and to teach and see Thy Kingdom come, we are thankful for Dr. Poe Win Ei and Dr. Thant Win for helping patients together with Sayama Rosie and two other nurses. Rev Ai Nap, Rev Kyaw Naing Win and all other ministers received well and all our team members were very much touched by the lord to bless many needy people in Jesus name at Lashio, Pain Has and Nummah villages, although there were many challenging times with road blocks and traffic conditions the lord opened many doors for us by his mighty power and grace. Our trip was disturbed by road accident near 223 miles point before reaching nay Pyi Daw, however none of us was not hurt badly although it was very deadly, the lordís hands were upon our team to protect. We all are aware of spiritual warfare and the power of prayers by the church.
We learned many new things at Sittway on January 11-15, beautiful reception of Rev Saw Danny and team as well as, Sittway Parahita Kyaung Saya Daw to have us to minister to his pupils, also principal of Sittway SHS 2, received us well, Myro villages at kyauk Taw and Ko Leo who helped us to visit IDP camp was very moving. We are very grateful to Dr Yu San Hnin and Dr.Myat Thu Aung, three other local doctors and three nurses who helped us whole heartedly throughout the trip for treating patients well and while they are treating our team shared the gospel and prayed for many people, obviously 4 people accepted the lord in this out reach. Menís retreat at Woonona Baptist church (Wollongong) and BCC Sydney Womenís retreat Wollongong Baptist church also went very well. We also give thanks for a very successful youth A4J conference on January 21-24 also Wagga Wagga Myanmar Christian Fellowship was very encouraging with firm Christian family values.
Our church 25th anniversary Birthday will fall on February 26th Sunday this month and we are very thankful for Godís faithfulness, Godís blessings and His Holy presence throughout these years. We want to thank all faithful friends and family members who are committed to the calling of Jesus and putting their Christian faith into their practical journey. We are also thankful those moved on to other places and prayerfully supporting us with words, wisdom and wealth to make possible to our church mission and vision. We are very blessed by our church current leaders and all of our past leaders who are serving faithfully for children, youth, men and women, discipleship and SYNA mission works. The Lord is returning soon and we are called to represent Jesus in this broken world with the gospel and share eternal life, eternal hope and eternally blessings to all our generations. Please let me congratulate to all our church partners and friends for your friendship and partnership is greatly acknowledged by us all. Letís look forward to worship the Lord well, evangelize well, love well, learn well and serve well to glorify His name until he comes. Luke 18:8 ď I tell you, he will see that they get justice, and quickly. However, when the Son of Man comes, will he find faith on the earth?Ē . Yes BCC Sydney, Weldone, good and faithful servants. Amen.
In Christ, Shane khin (Pastor Burmese Christian Church Sydney)