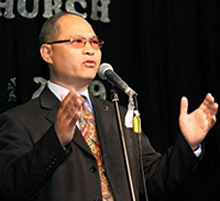 Pastor Letter for August 2017
Dear Members and Friends
We are thankful for our Lord guidance, peace and purposes for our church throughout 2016-2017 financial year. August is the month that we will celebrate thanksgiving towards Jesus and towards one another. God has taught the Israelites to have thankful attitudes towards their creator, redeemer and provider as they enter into the promised land. Thankfulness is all about acknowledging and honoring God who is the author and finisher of our faith and to this relationship the Lord is pleases. Deuteronomy 26The Message (MSG) 26 1-5 Once you enter the land that God, your God, is giving you as an inheritance and take it over and settle down, you are to take some of all the firstfruits of what you grow in the land that God, your God, is giving you, put them in a basket and go to the place God, your God, sets apart for you to worship him. At that time, go to the priest who is there and say, "I announce to God, your God, today that I have entered the land that God promised our ancestors that he'd give to us." The priest will take the basket from you and place it on the Altar of God, your God. And there in the Presence of God, your God, you will recite:
Thanksgiving is and attitude of reflecting the goodness of God towards God's own people and to honor the community of God in our fellowship so that people will see and experience God's greatness, characters and blessings in the real life. Deuteronomy 26:12-13; says 12 "When you have finished paying all the tithe of your produce in the third year, which is the year of tithing, giving it to the Levite, the sojourner, the fatherless, and the widow, so that they may eat within your towns and be filled, 13 then you shall say before the Lord your God, 'I have removed the sacred portion out of my house, and moreover, I have given it to the Levite, the sojourner, the fatherless, and the widow, according to all your commandment that you have commanded me.
Finally our thanksgiving is not only bring joy to our hearts but towards god's own heart as He declares we are His people, today in this very stressful time that we live we can see many are struggling with pride, greed, stress and hopelessness and in most relationship thankfulness is not a part of it. However we as God's own people we will bless our generations with thankfulness in all areas of our lives. Deuteronomy 26:16-19 "This day the Lord your God commands you to do these statutes and rules. You shall therefore be careful to do them with all your heart and with all your soul. 17 You have declared today that the Lord is your God, and that you will walk in his ways, and keep his statutes and his commandments and his rules, and will obey his voice. 18 And the Lord has declared today that you are a people for his treasured possession, as he has promised you, and that you are to keep all his commandments, 19 and that he will set you in praise and in fame and in honour high above all nations that he has made, and that you shall be a people holy to the Lord your God, as he promised." Let's be thankful and bless God, bless one another and bless our upcoming generations in Jesus name. Amen.
In Christ, Shane khin (Pastor Burmese Christian Church Sydney)