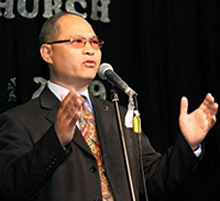 Pastor Letter for December 2016
Dear Members and Friends
Christian life is full of celebrations and the greatest celebration for us is the birth of Jesus Christ our Lord. The birth of Jesus Christ means to the world that we can completely trust and live by faith in the God of all creations who knows our wants and needs in this life and for the life eternal by giving His one and only son Jesus so that we can be sure of our destiny. Firstly, as the gospel of John confirmed us that God gave us eternal life in his son for whosoever responds his blessing by faith "John 3:16 (NIV)16 For God so loved the world that he gave his one and only Son, that whoever believes in him shall not perish but have eternal life." We can live a fulfilling life in Christ as we put our faith for this life and the life t come. Hallelujah, the greatest gift for all humanity is Jesus Christ and he is the reason of all Christmas celebrations.
Secondly Hope is the blessing of Christmas that we can go forward in life from condemnation, Jesus brought us hope in His presence, in His words and in His name the best hope and true hope for the world we live now is Jesus Christ who is in the center of our Christmas celebration because "For God did not send his Son into the world to condemn the world, but to save the world through him. 18 Whoever believes in him is not condemned, but whoever does not believe stands condemned already because they have not believed in the name of God's one and only Son. John 3:17-18" Lets share this hope in this Christmas to those who are living through hopelessness in life.
Finally Christmas is all about the love of God given to all who are sinners who live under the influence of Satan and sins being separated from the love of God. Romans 5:8 Christ died for us while we were still sinners, and by this God showed how much he loves us. The revelation of God to the world is His love and care and the message of Christmas is love, in Christ we can see how much He loves us and the love of Jesus is in us to demonstrate in our giving as John wrote in 1 John 3:16-18 This is how we know what real love is: Jesus gave his life for us. So we should give our lives for each other as brothers and sisters.17 Suppose a believer who is rich enough to have all the necessities of life sees a fellow believer who is poor and does not have even basic needs. What if the rich believer does not help the poor one? Then it is clear that God's love is not in that person's heart. 18 My children, our love should not be only words and talk. No, our love must be real. We must show our love by the things we do. Christmas is all about faith, hope and love of God to receive, to know, to own and to share with each other in Jesus Christ. Have a very blessed Christmas and a great new year 2017.
In Christ, Shane khin (Pastor Burmese Christian Church Sydney)